Overview of TATA Steel Gearbox
Highfield Gears And Machining Ltd was approached by TATA Steel Port Talbot to inspect and repair their long travel gearbox which had suffered output coupling damage and upon inspection damage to the 1st reduction pinion shaft, 2nd reduction pinion shaft and wheel set were also discovered.
The 3 ton gearbox was in serious need of a complete inspection and overhaul, and we saw to it that our best engineers were on the job to ensure a quick turnaround without fail.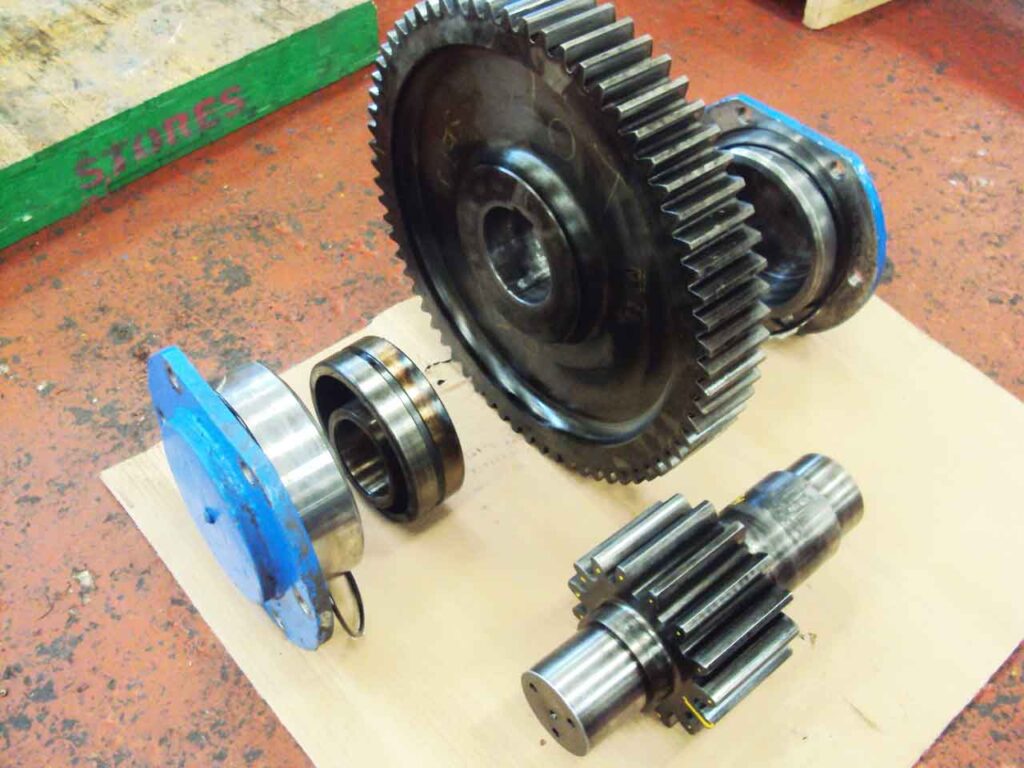 Synopsis & Action
Upon inspection it was apparent a full internal shaft and gear replacement was necessary.
This included the 1st and 2nd reduction helical pinion shaft which had damage to the gear teeth, locknuts, bearing damage and oil seal replacements. The final output end required new a new output shaft and bearings as well as an output coupling replacement.
Initial inspection of the unit shows the output coupling was found to be twisted on the shaft causing heavy damage to the coupling, keys and shaft. On the strip down of the 2nd reduction pinion and wheel set we found a 5/8″ countersunk Whitworth x 3/8″ long part of a screw lodged in the housing between the outside diameter if the bearing and the inside diameter of housing.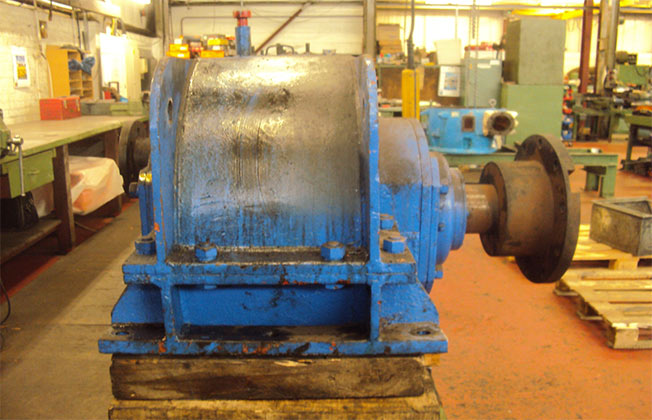 Brief Overview of Work Carried Out
Machined Housings
Machined Case Liners
New Bearing Housings
Manufactured + Fit new 17T Input Pinion Shaft,
Manufacture + Fit New 2nd Reduction 15T Pinion Shaft
Manufacture + Fit New Output Shaft
Manufacture + Fit New Output Coupling With New Keys
Supply + Fit New Bearings
Supply + Fit New Seals
Supply + Fit New Fasteners
Rebuild, Test, Paint + Deliver Back To Site.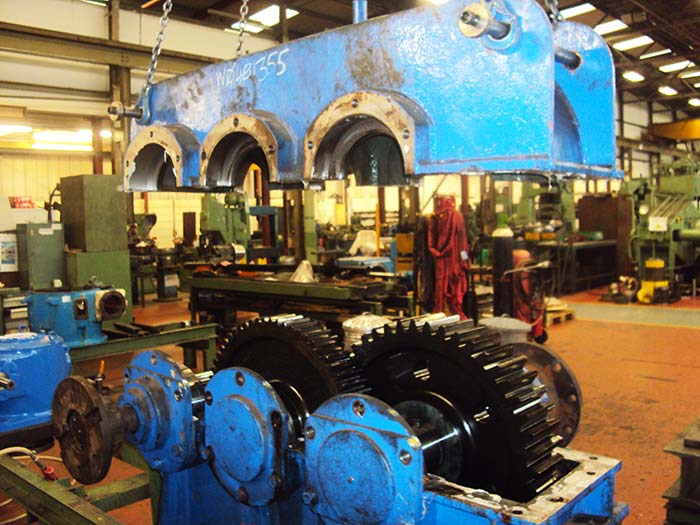 To conclude, we were happy to deliver this project back to TATA Steel Port Talbot on time and on budget. All of the helical gear manufacturing and CNC machining was done in house at our 12,500 square foot premises in Huddersfield, UK.
Please get in touch if you would like to know more about how Highfield Gears And Machining Ltd can help you today.